Logo Design
Body by Bona
Bona is a fitness trainer that lives and works in Greenville, SC. Bona's primary target audience is young professionals who work out, whether online or have a personal trainer coming to them. Body by Bona wants to create a brand for workout equipment, its website, shirts, and overall clothes.
For this logo research, I begin by understanding and studying different logos in the sports industry. I took much inspiration from companies such as Under Armor, Nike, and even Adidas. Then, I emphasized making sure that the logo looks and feels like a brand.
The first thing I wanted to work on was the primary mark which needed to be understandable and clean. The identity mark I used on the Bona Logo is one of the owner's favorite workout poses. In one of his main workouts, Bona likes to do a leg extension, and I noticed that this pose was one of the primary poses his clients will see from him.
For the colors, I went with blue and black. Blue is a trustworthy color, and black is spotless and well-balanced. Moreover, I wanted the colors to be simple; that way, the logo could have different color options in the future.

The font used for the body by Bona is an easy-to-read Sans Serif font. However, I wanted to be bold, just like his business motto.
The result was a logo that could stand by itself in different scenarios. The logo looks fantastic on T-shirts, workout equipment, online, shoes, and clothes.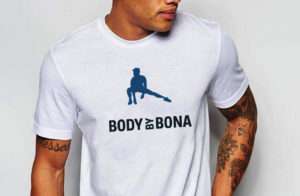 I enjoy working with Bona on this project. We were both delighted with the results.
For more information in projects like A Touch of Color contact me at Oscar@OChenaDesign.com
Or send me a text message to 864.325.3987