Branding Project
Casa Carrion
Casa Carrion is a family-owned restaurant in Lyman, South Carolina. The first restaurant by the Carrion family. A family who had been in the food industry their whole life. The main goal of this specific restaurant branding is to create a recognizable identity as a classic-style Mexican restaurant.
I started the research process by asking questions to the owners about what kind of food they wanted to sell and what do they want it their target audience to feel when they looked at their logo. The conclusion was that the restaurant would serve the community with classic Mexican food based on the area. Then I moved the research to the target audience, and I found out that people around this area consider Mexican restaurants classic, warming, and family-oriented places.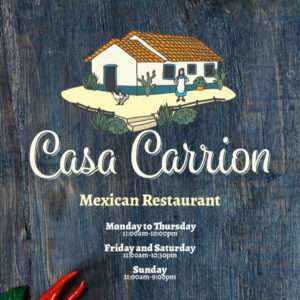 The name on the logo is "Carrion," the family's last name. I wanted to emphasize where the family was from, so the primary mark for this logo is a house resembling Mexico. I added a chicken and a lady to the emblem, reminding the people of their humble beginnings. The lady also signifies home cooking.
I choose the colors to be soft and clean, using almost the same saturation on all of them. In addition, I ensured that the colors were striking and made sense with the scenario on this logo.

I used a script font for the name "Casa Carrion." The script font is straightforward to read, but simultaneously, it calls your attention and looks classy. Then, I use a green font that is bold, classy, and easy to read for "Mexican restaurant" words.
I also finish the work for their menus, website, and different mock-ups for T-shirts, business cards, and merchandise they may use in the future.
In the area of Lyman, we achieve Casa Carrion's identity as classy, warm, old-school Mexican food. In addition, we accomplish a sense of home cooking.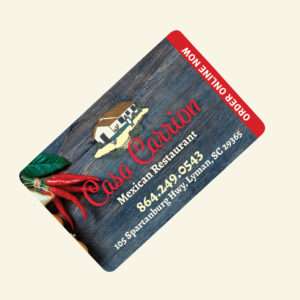 I was delighted with the results, and I started a friendship with the owners of this restaurant. Every sense then, I make designs for their restaurant almost every year.
For more information contact me at Oscar@OChenaDesign.com
Or send me a text message to 864.325.3987