Logo Project
dj Black Caesar
DJ black Caesar is an excellent friend of mine and a famous DJ in Greenville, South Carolina. He has been DJ in the town for about ten years and is well known. After a few years, he decided that he wanted his logo re-designed so his fans could wear it in T-shirts, hats, hoodies, and all sorts of merchandise.
My goal for this logo was to create something representing DJ Black Caesar and his brand.
I started by researching different styles of logos from back in the 80s and 90s, but I wanted the logo to look modern in a hat. So I also checked the colors for the 80s and 90s CD covers, and I found that orange, brown, and white create the most striking designs.
I started the work by drawing the logo. First, I wanted the word "Black" to be on top to exhibit his DJ name. And then the word "Caesar," I wanted to be big and colorful. I also wanted to add music elements representing what he does as a Dj.
I chose the colors based on a combination of orange, brown, and white from hip-hop in the 80s and 90s. I also noticed that the white and the orange would create contrast against the brown if we wanted to use the brown as the background.
The result was a striking stamp/logo design that looks great on hats, shirts, and hoodies.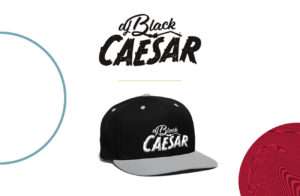 For more information in projects like Dj Black Caesar contact me at Oscar@OChenaDesign.com
Or send me a text message to 864.325.3987