Branding Project
TAG Cafe
That café is a business shipping different nuts in the United States. In 2022. The business is needed rebranding. Their old branding was outdated; it was just their name, tag mark, and a picture of a nut. The company wants something refreshing, fun, clean, and new. The name of the business Tag represents their customers talking about this product and tagging one another on websites and social media.
One of the first things I did was look at brands selling similar products. One of my main goals was to create something different that does not look like every other product in the same category. Therefore, I decided to go with a different logo style to achieve a final look that will differentiate this logo from the rest.
I decided to go with a black color, representing professionalism, and a gradient of oranges, which will create a look of a new morning. I also made the type Cafe in the logo smaller so that the logo will not be confused with an actual café place.
Second, I made the word "T" on Tag bigger so that the target audience could see it and recognize the Tag popularity of the product in recent years.
I used natural colors from nature and nuts, such as earth pastels and greens, for the branding. In addition, I wanted to show that this company sells organic products, and it was important for the packaging to feel like so. Therefore, I added light strokes and silhouettes of nuts to the packaging.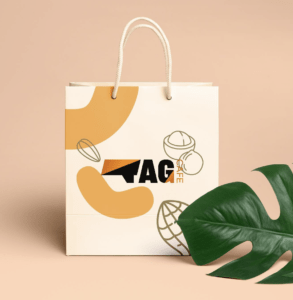 The result was an organic, clean, and fun new look that contrasted with many other brands in the market.
For more information on projects like TAG Cafe, contact me at Oscar@OChenaDesign.com
Or send me a text message to 864.325.3987