Food Truck Wrap
Pupuseria La Estrella
La Estrella Pupuseria is a restaurant located in Greenville, South Carolina. With their recent success in the food industry, La Estrella Pupuseria decided to buy a food truck and then wanted to add a design that would make it look unique and resemble the restaurant they already own.
I decided to take on this project to create a fantastic design that will make sense for the restaurant and the food truck simultaneously. I wanted the food truck to illustrate that they make food that is delicious so that it will convince people to buy the food that they are selling. At the same time, I wanted to show the colors in the restaurant's brand identity.
I started the research by looking at other food trucks and what design decisions all the designers made when adding pictures of the food to the vehicles. Then, after looking at many businesses, I decided that pictures of food in the food truck are the way to go; not only can the vehicle advertise its delicious food in the picture, but it can also create interest like a moving billboard.
One of the main things that I wanted to add to this design was the picture of Pupusas which is the leading food that this food truck makes. So I decided to concentrate on one (their main) food item from their menu rather than lots of food; that way, the design can stay clean and legible from far away.
The background colors used in the food truck design are in the menu and business cards at La Estrella Restaurant. I used this background to keep the branding of the restaurant consistent. I also used the colors from the logo to accent the design to maintain consistency with the brand.
The finished project was a food truck full of color with pictures of delicious food and information that people could see in the design. After this design, I'm still doing projects with the restaurant owners on things such as menu changes, flyers, business cards, and web work.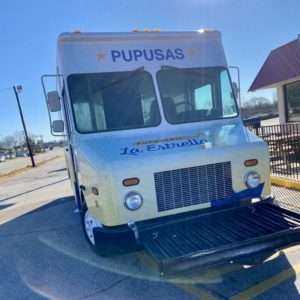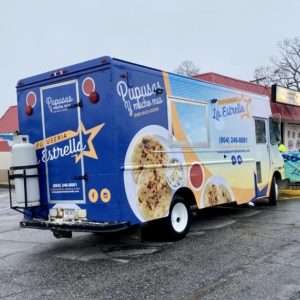 For more information in projects like the food truck wrap for La Estrella Pupuseria contact me at Oscar@OChenaDesign.com
Or send me a text message to 864.325.3987