Branding Project
Victor Sanchez PMI
Victor Sanchez has a Property Management franchise in Simpsonville, South Carolina. Due to the recent business growth, Victor Sanchez asked me to work with him to brand his business. PMI has many different franchises but the same logo and colors overall. For this branding project, it is vital to make the final branding assets look distinctive but better than the franchise branding but keep their logo and colors.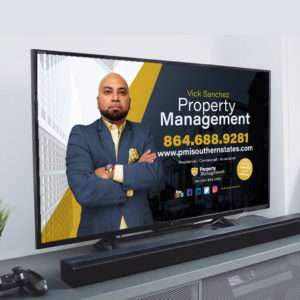 I started by researching what a similar brand franchise looks like and see what they can get away with regarding creative changes. In addition, I studied and found identical franchises in the area to make a distinction from local branding in the same field.
I asserted that adding Victor Sanchez's face to the branding would make the most significant impact and give the brand the necessary professionalism.
First, I spoke to Victor and explained that we needed to add his image to the branding. Not only is his image a clear sign for his customers to know who they will be dealing with it also shows the commitment to transparency in the business aspect.
Second, I looked at the placement for these assets, such as signs, car wraps, magazines, window placement, etc. I wanted to know what colors would surround the brand. Knowing the colors around my work will make it easy for me to create contrast. I use white and yellow as my bright colors and dark blue for the dark contrast. I also ensure that the colors make sense with the property management branding.
Then, I created mockups to check the different applications of the logo with its colors and branding guidelines.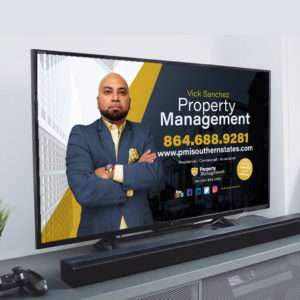 The result was clear branding that used contrast to show the business's professionalism and prints well in different magazines, newspapers, etc. The design achieved all of the critical goals and helped grow the business.
For more information on projects like Victor Sanchez PMI, contact me at Oscar@OChenaDesign.com
Or send me a text message to 864.325.3987