Logo Design
A Touch of Color
A Touch of Color is a company that paints residential houses in Greenville, South Carolina. The company has approached OChena design to rebrand its logo. The main reason for the logo rebranding is their need for their identity to be more recognizable by their primary clientele. Additionally, their goal is for their logo to be more approachable, Just like the company itself.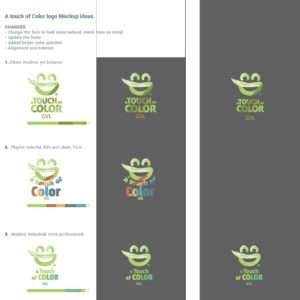 I started this design by drawing different new and modern logos. I wanted to emphasize that this company is young, and I found it fascinating how the company sends a happy face emoji to their clients after a job.
The first thing I did was create a brush that resembled fresh paint so it could paint a smiley face.
For the logo's color, I chose green to represent Greenville. I use shades of green, from the green you will see on a plant to more pleasant pastel green, to create a sense of community.

For the font, I decided to go with something simple that can be highly readable. I wanted people to be able to know the name of the company right away. The company's name is a little bit longer, so it is essential to have a San serif font to make the logo clean.
I put all the elements together, creating a beautiful, clean, and easy-to-understand logo. The logo clarity looks well in different merchandise such as shirts, work vans, and business cards.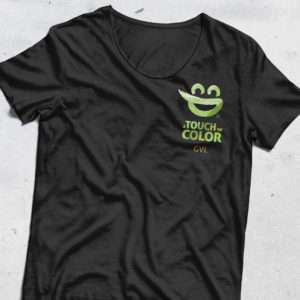 Working with this business was fun; the work was short, but the results were satisfying.
For more information in projects like A Touch of Color contact me at Oscar@OChenaDesign.com
Or send me a text message to 864.325.3987